HopTop Brewery Kft. was established in 2015 with the aim to create excellent quality beers and build a diverse portfolio of craft beers for the growing craft beer community.
We started our brewery in the premises of the former Royal Brewery industrial park.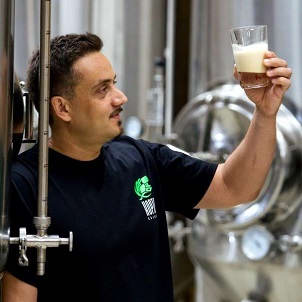 The owner of the company, Szami Ali Rawech worked as a manager at a multinational company, before making an unexpected turn in his career by switching to the craft beer industry. Due to his past as an economist with a maximalist attitude, he was able to build and unite the company, by creating the award-winning recipes and also making the business decisions.
Continuous experimentation and professional development can never end in terms of evolution of the company. We hope that this attitude led us to receive multiple international awards.
Our beers are not pasteurized or filtered, so their taste is more intense and enjoyable, as all the valuable ingredients remain in them, but due to our outstanding care and hygiene, their shelf life is 1-1.5 years